#UnfollowBullying - Recognizing the Power of Student-Created Content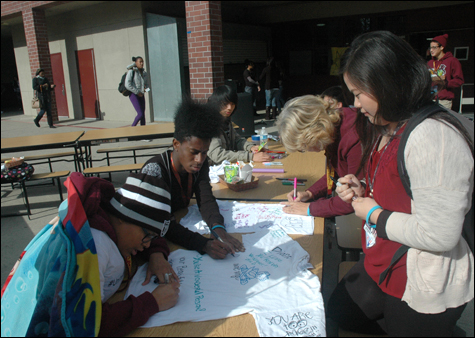 If you are planning to submit nominations for the 2012 Edublogs Awards, I hope you will consider #UnfollowBullying as a candidate for the Best Twitter Hashtag category. #UnfollowBullying, a student-created, student driven initiative, is in recognition that students are the ones who will lead the charge in their online communities to ensure that all students are treated with respect and kindness. Past winners in the Best Twitter Hashtag category have (simply) created a stand alone hashtag. One of the many distinguishing features of #UnfollowBullying is that the hashtag comes with a dynamic online student toolkit to help students everywhere stand up, speak out and be the change.

Wall signing at Ed Harris MS
Almost a year ago, NWP colleague Natalie Bernasconi and I began creating and co-curating the Digital ID wiki. Initially a collaborative project for gathering digital citizenship resources and best practices, the project has evolved into a platform and global microphone for student-created content.
This week, we will begin showcasing student content from #UnfollowBullying. Yes, this student-led campaign is from my school district, and in my role as a tech integration specialist, I am supporting the project. But the evolution of this project has been dynamically student-driven and is resulting in some amazing samples of students addressing and crafting the topic of cyberbullying in ways that challenge issues at their own school sites. From T-shirt signing events, to wall signing events, to newscasts, the students are broadcasting a call to action across the district and beyond – as evidenced by #UnfollowBullying Tweets generated from students from other school districts.
Note: Be sure to listen to the entire newscast to learn about the many ways Toby Johnson Middle School students are challenging cyberbullying
What Natalie and I have witnessed over and over through our respective teaching assignments (Natalie, middle school ELA/AVID teacher; Gail, K-12 tech integration specialist) is that, although teachers play a pivotal role in initiating the shared conversations on the ethical use of the Internet and social media, it is students who must lead the charge in confronting cyberbullying because so often these incidents occur when no adult is around to mediate.
What makes the #UnfollowBullying campaign so likely to have an impact on how students regard not only their rights but also their responsibilities as (digital) citizens is that all sites will be rolling out a digital citizenship curriculum (mainly from Common Sense Media), ensuring that, with teachers joining in, a week-long campaign can continue on throughout the school year, woven in multiple ways into advisory periods and, better yet, into the core curriculum.

As Writing Project TCs, we have a deep respect for the model of teachers teaching teachers. In our daily work with students, however, we stand back in awe at the power of students teaching students. It is truly the full circle of digital citizenship.

We hope you will join us in nominating #UnfollowBullying for a 2012 Edublogs Award.



P.S. We'd also love to feature your students' work on the Digital ID wiki! Be sure to check out the 2013 Digital Citizenship PSA Challenge as well as the Student-Created Content page.


For more information about the Digital ID project and ideas on weaving digital citizenship into the curriculum, you can also visit our 2012 K12Online Conference presentation:-).