(Cross-post) Classroom Tools That Work: Research Tools
The apps and extensions that help power our Google Apps for Education paperless classroom
This is the third in a five-part series about favorite apps and extensions for Google Chrome and Google Drive.
In the first post in this series, I covered some essential tools for managing the new apps and extensions that you'll want to add to your Chrome browser. In the second, I shared tools that help writers be better writers. Fair warning up front, though, it's the research add-ons, apps and extensions that I really love! I am old enough to remember research pre-Internet. I recall sitting in the stacks with the Reader's Guide, thumbing through microfiche to find articles, writing out copious notes on index cards and legal pads. Not anymore! Since research is such an important part of the ELA curriculum, this third post will be dedicated to those game-changers that help students conduct research, capture source information, organize ideas, and cite within a research paper or project.
Four Tools for Research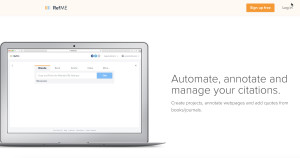 A screenshot of the RefMe site. Check out all of the tools at https://www.refme.com/us.
What is it?
RefMe is a three-in-one-tool — a website, asmartphone app and a Google Chrome extension — that helps writers "automate, annotate and manage citations."
What does it do?
The RefMe website allows users to collect bibliographic information for building a paper. The phone app allows users to scan a book's barcode, capture the information in seconds and upload to the user account on the website. The RefMe web clipper extension allows users to capture quotes, information, and student notes directly from a website.
How do we use it in an ELA classroom?
RefMe's versatility makes it a very useful tool for my students. When we head to a local college library for research, students use the phone app to scan barcodes of the books they are using. They use the Chrome extension when taking notes from databases and online sources. Because everything lives in one website, they then can return to that site when assembling their paper.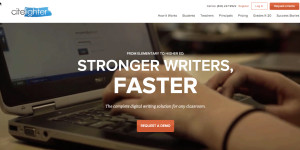 A screenshot of the Citelighter homepage at https://www.citelighter.com.
What is it?
Citelighter is a full website with a Chrome extension that allows students to copy quotes, take notes, capture bibliographic information and organize a research paper. The basic extension is free to use; the Citelighter Premium package is really cool – allows for the teachers to push out organizational structures, watch students' research process, and check for plagiarism – but there is a fee.
What does it do?
Citelighter is research tool for students that goes beyond citation. Students can capture information with a simple click and then incorporate that information into a Google document.
How do we use it in an ELA Classroom?
Citelighter has an overview video of the basic tool on their website. Students will need to sign up for a free account at Citelighter and download the Citelighter extension to their Google accounts. Then, they should create a new project in Citelighter before beginning their research. Once created, they can use Citelighter to capture sources, take notes, add their own comments, organize their information, and build an outline for their paper. When they are ready, they can click on Write in the toolbar and they'll be able to create their paper in a Google doc with drag and drop features for their quotes and bibliographic entries. Citelighter is an all-in-one tool that handles some of the time-consuming tasks of research and allows students to concentrate on the writing.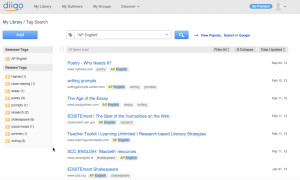 Diigo's tags allow for sorting and organization of web information. Check it out at https://www.diigo.com/
What is it?
Diigo is a full website with a host of tools for capturing and recording information. Diigo has a free plan and four different levels of pricing for upgraded plans. Educators can get a Diigo Educator Account for free here which allows you to create and manage student groups.
What does it do?
Diigo calls itself a "knowledge management tool' which seems like an apt name for a tool that does as much as Diigo does. At its simplest, Diigo can serve as a place to store favorite websites; at its fullest limit, though, Diigo allows for professional gathering of information, note-taking, collaborating, publishing, and sharing with others. Diigo has multiple pricing plans, but the free option is powerful, especially when linked with the Google extension and the new Quick Note tool. There are several different options for Diigo for Education that are worth looking into.
How do we use it in an ELA Classroom?
Using Diigo in the Classroom is a comprehensive site with video tutorials for teachers and students as well as ideas for classroom use. Diigo helps make research and exploration a more frequent occurrence in classes by giving students a place online to collect and share.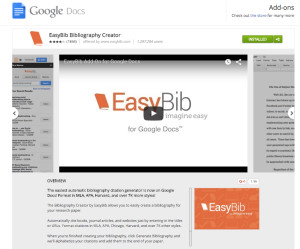 The EasyBib add-on for Google docs makes adding a bib page simple. Info at http://www.easybib.com.
What is it?
EasyBib is a website with a Chrome extensionand an add-on for Google Docs. The Bib Creator add-on captures information for students and builds a bibliography page in the style they choose (MLA, APA, Chicago, etc.). Basic features are free right now with this add-on, but premium features (like in-text citations) would cost money.
What does it do?
When students are ready to build a bibliography, they can search for or enter the website from which their info was gathered. EasyBib will build the citation and store it. When they have all citation entries, they can click on "Add bibliography to doc" and their info will be properly formatted and alphabetized.
How do we use it in an ELA Classroom?
EasyBib has a page describing the tool with a video that demonstrates its use here. My students use the Google document add-on to capture and assemble their bibliographies at the end of a research topic. EasyBib is a quick go-to tool when students need to include source information quickly. EasyBib also offers teachers some great resources for the classroom:infographics, source analysis guides, and lesson plans.
It's a great time to be a student researcher and an even better time to be a teacher of real and relevant research practices. What other tools are your students using in the process? Let me know in the comments. In the next post, I'll discuss some of the tools that help with feedback in the writing process.
This post was originally published on http://upnorthlearning.org/blog by Janet Neyer