reposted from zythepsary.com
A couple years ago the Popcorn team of the time set out to involve youth filmmakers in beta-testing the first version of Popcorn Maker. They called their experiment "Storycamp" and the very first version resulted in new features for the software.
the Popcorn Maker interface back in 2012
A year later, during the Summer Code Party in 2012, a small group of us took the initial materials created for Storycamp and developed them out into a full fledged, six week learning program. Each week had a different theme, and there was a project that threaded through the entire course.


Summer Code Party logos
Afterwards, we did a post-mortem on the program:
What we rocked:
Curriculum/Content: The new "Teacher Guide" had a cleaner, better structure. People loved using Thimble (which at the time was barely beta) and the templates we created were fun and engaging. Teachers were able to use the provided resources without much 1 on 1 from Mozilla, so our work took a large amount of prep load off the folks on the ground.
Media: Our live casts, using Big Blue Button were appreciated by all, and the Storycamp Videos and archived interviews were a huge success. The Storycamp site, though rudimentary in features, was extremely helpful for teachers and learners to have constant access to all of the materials.
Engagement: Age range was a big thing – we targeted 14 to 19 year olds, but with 27 youth organizations participating, we actually reached ages from 11 to 24. The technical chops of these learners were fine, but some of the theoretical content built into the program was too advanced for kids under 13. People who engaged got immediate response, no frustration detected on their end as far as Mozilla support.
What went wrong:
Curriculum/Content: One organization said that it wasn't clear if they were running a video production workshop or a web development training. Many found it challenging that curriculum was only ready when the course began – they felt they didn't have enough time to prepare. Organizations reported that certain things weren't used.
Media: The hour broadcasts were too long for the learners and some content was over their heads. The social norms of conference calls are awkward for teens, they presuppose that teens are dying to talk. We also experienced issues with tech and the UI wasn't appropriate for chat. Finally, our tools were still just too raw.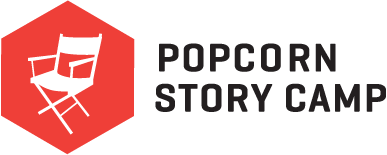 About 6 months later, at the end of 2012 and the beginning of 2013, I had redesigned the educational structure of Storycamp to reflect the underpinnings of what is now the Teaching Kits. I envisioned a new model for curriculum, modular enough that any one could change programs and plans by swapping out activities. I wanted people to be able to run a single session or even the entire program in any order – without being tied down to the curricular design I'd set. The idea was to structure them in a way that made it easy to remix and customize the curriculum for various audiences. I wanted to remove the contingencies of prerequisite knowledge as much as possible and help people be creative with their teaching, as well as their learning.
This was before we had built in the "Remix" Everything button into all our tools, so I built the curriculum in HTML/CSS and posted it all at the HiveNYC.org website. We then ran Storycamp 2.0 for the Hive Learning Network in NYC. We wanted to get the tools into the hands of more educators and help them use them, but I was looking at the model and whether or not it could work on a larger scale. I was asking if we could, in fact, make Open Educational Resources that are truly remixable, and it turns out that we can.
The new model was successful, so we decided to take my prototypes and build them out into what are now the Teaching Kits located at Webmaker.org/teach. We worked to redesign my original templates, build in features that would allow us to tag and search content, and promote the idea of remixable curriculum. We launched the Teaching Kits in the summer of this year, and it seems like folks are liking the structure.
But what about all that content? We had the model formulated in a way that anyone could use it, but we still had loads of content that hadn't been fed into the new designs. It took some time (mainly because there's always 1001 things happening in the Mozilla universe), but I was finally able to update and remake ALL the Storycamp resources using the remixable teaching kits. Now, they're open and ready for any one to take and remix.
I'm really proud to show you the new and improved Storycamp curriculum. I made a Meta-Kit so you could have all of Storycamp in one place. The "Agenda" links out to the other kits. I also made loads of new resources, and everything is linked from this page.
the Header for all the Storycamp kits
If you find something funny, or have ideas for improvement, please don't hesitate to reach out!