Make a MOOC: What We Learned in CLMOOC
The purpose of this resource is to synthesize what our team has learned as a part of the "Making Learning Connected" massive online open collaboration (#clmooc). The intended audience for this document and the related resources is those interested or involved in designing, creating, or participating in online courses.
#clmooc is a collaborative, knowledge-building and sharing experience that is open to anyone who is interested in making, creativity, and learning. In it, we designed and engaged in "makes" — creative projects — that tap into our personal (and professional) interests. We shared what we've made and did, learned from each others' experiences, and reflected on our own growth. We engaged with and employed Connected Learning principles as they relate to making and learning. The general approach to our MOOC was that of connectivist cMOOCs.
The original offering of #clmooc ran from June 15 to August 4 and consisted of six two-week overlapping cycles of making, learning and connecting. Over 1,000 people participated in this first offering, which was sponsored by the National Writing Project.The community continues to exist both in and of itself and through the many ways in which participants applied and extended this work in their own contexts. For more information, visit the #clmooc site and our G+ community.
Here are some of the items that might want to consider in setting up your own MOOC. Each of these items is linked to a document or artifact that has more detailed information on what our experiences were, what we learned, and what you might consider.
Facilitating Team
In this ongoing series on hindsight reflections on how we "made" the Making Learning Connected MOOC (CLMOOC), I think that one of the most important elements of our success was the team.
I believe strongly that active facilitation is critical to cMOOC success. Those that have weak or nearly non-existent facilitation do not often thrive. This is, of course, a challenge of time, commitment, and sometimes budget, but it is essential. In this regard, #clmooc soared.
The team for #clmooc was in a word, amazing. There were many ways in which this team was assembled and then worked together that contributed to our success.
There were seven of us. That may seem like a lot, but I know that we couldn't have done all the work we did with a smaller team. It was the right number for this project. Not so many that we couldn't really get to know each other and meet together frequently, but enough that we could plow through a huge amount of work.
Each week, two people had primary responsibility for that week's activities. One was the lead, and one was the helper. But everyone contributed every week in amazing ways.
We had a streamlined system of consistent activities that we developed together. We started each make cycle with a blog post and newsletter. Each week we had a "Make with Me" hangout and a Twitter chat. We participated in Connected Learning TV webinars and #literacies chats. We ended each make cycle with reflections, sharing, and Find Five Friday.
We planned and planned and planned. We met via Google hangout online every week for many hours before #clmooc began. We produced what seemed like hundreds of Google docs. We talked and talked and talked. And #clmooc was better for it.
Our team made everyone in #clmooc feel welcome and feel that however and whenever they participated was ok. If someone joined in Cycle 6 and was just starting with their introduction, we made sure they knew that was just great. Several participants said that this stance really helped encourage their participation.
Our team worked hard and was always present. As Terry said, it was a rare hour in the day when one of us wasn't online in the community doing something. We spanned various time zones and had different times when we were able to jump in. And we posted and talked, tweeted and hung out, encouraged and reflected, 24/7.
We had shared values and a commitment to excellence.
And then there were the individuals themselves.
Elyse Eidman-Aadahl, Paul Oh, and Christina Cantrill brought bold and bright leadership. They had a vision, but also asked the team to bring our own vision to the project and to build out whatever new tools and ideas we had. Most importantly, they empowered us to be our very best as a team. We were given not only chances to use our voice at every turn, but also admin rights and lots of support, which was a huge part of #clmooc being what it was.
Joe Dillon reminded us at every turn that however participants took part was good and acted as a voice of encouragement. I will forever hear his strong, comforting voice saying "Karen, you are ok, and however you participate is ok." He consistently reminded us that there were all kinds of people in the MOOC and that we should keep them all in mind as we proceeded. #clmooc was a better place for his leadership.
Chad Sansing took us to unexpected and often higher levels in our thinking about learning and was an ever-present hologram in our many spaces. He always encouraged us to hack, to make the web, and to think of our students in new and more meaningful ways. (And personally, I want to thank Chad for Walk Out, Walk On. It is changing me.)
Anna Smith joined us from a different locale each week and asked questions at every turn that took us to new points of departure. She brought clarity to us through these questions. Anna also prompted our noticing and sharing with Find Five Friday (#f5f).
Kevin Hodgson – ah, what a force of nature he is! Kevin made movies, made music, wrote posts, made makes, and much more. His words, pictures, thoughts, and feelings inspired and delighted. I will be continuing to catch up on Kevin's prolific output for months to come. I feel lucky to have Kevin as a friend.
Stephanie West-Puckett helped us to understand and bring the Connected Learning principles and ethics into everything we did. She also brought the playful lightness of toys and children into #clmooc. I always felt that Stephanie was there to help boost me up when I fell short and for that I am grateful. There is nothing like feeling you have someone strong there for you when you need her.
Terry Elliot brought so many things to #clmooc that I am hard pressed to hone in on what to say about him. Always able to produce a perfectly delightful and simultaneously intellectually stimulating comment at just the right time, Terry was a special friend to me during this summer. He helped me to be more comfortable with my rough edges and he encouraged me to make my voice heard, especially when I felt unsure and not up to the level of the rest of the group. And of course, there are the roosters. 🙂
Jordan Lusink kept us organized and smiling! She performed many, many behind the scenes tasks that supported us, and #clmooc couldn't have been without her and her team.
And of course, there was the community. There are too many to name, but so many of you took on leadership roles. That, to me, is the true proof that we achieved a vibrant peer learning community where we were all facilitators, all teachers and learners. For me, that was one of the biggest successes of #clmooc.
Thank you all for a truly great summer of making and Connected Learning. I appreciate each of you deeply.
Planning and Facilitating
The process of a planning a MOOC can be a whole project in and of itself.
For CLMOOC, the facilitator team was very involved in the planning process. For many weeks before the MOOC started, we had weekly web meetings in Google hangouts to plan the MOOC. We also used Google Docs extensively to record our  In these meetings, we talked about our goals, our ethos and guiding principles, how we'd divide the work, and many other issues.
We spent a lot of time planning…really, a lot of time, but in hindsight, we think it's one of the things that made CLMOOC successful.
Teasers and Marketing
There's old adage that has often been adapted by anyone brave enough to try their hand at building an online space: You can build it, but will they come? And then there is the ancillary adage: If they come, will they stay?
One of the early challenges we facilitators had with getting the Making Learning Connected Massive Open Online Collaboration up and running in grand style was finding ways to spark interest for participation by educators who might not only have little or no experience with the concepts of a MOOC but also might have very limited knowledge of the Connected Learning principles.
And we wanted to do this before the MOOC was even launched.
As we began planning and brainstorming about how the CLMOOC might begin to unfold, we were also cognizant of some helpful advice from one of the advisors to the project. Paul Allison, of the New York Writing Project and host of Teachers Teaching Teachers, suggested we keep in mind that the MOOC would be running in the heart of the summer, a time of much-needed respite for many educators.
Keep the mood light and keep it fun, he suggested. Come on too strong with Connected Learning principles, or populate the MOOC with too much serious work right off the bat, and we would likely have a small crowd. What we wanted was massive. What we wanted was engagement.
With this in mind, the facilitating team began early on with creating a series of "splash media teasers" for the MOOC that were designed to generate interest and discussions, plus word of mouth, and maybe offer an unusual form of invitation to what we were confident would be an enriching summer experience. In essence, we were engaged in a form of guerrilla marketing in educational social spaces, giving just enough information about the MOOC to intrigue folks so that when the launch became official, it would resonate with some familiarity.
Facilitators also leveraged their own social capital, seeding their own followers and friends in networks with the possibilities of a summer of playful learning.
The splash media teasers, which we began releasing about three weeks before the launch of the MOOC in spaces such as Twitter, Google Plus, and personal blogs, ranged from digital stories of students and teachers in the midst of making (Stephanie West-Puckett) to a video slideshow movie (Karen Fasimpauer) to a music playlist themed around connected ideas (Chad Sansing) to a glimpse of a paper airplane launched in flight (Joe Dillon) to a visually beautiful slideshow of connected images (Terry Elliott) to a remixable metaphorical stopmotion video (Christina Cantrill) to assorted comics and diagrams, and even a MOOC video game (Kevin Hodgson).
In a sense, we were branding the constructivist ethos of the MOOC on the market before the product was even on the shelves. The sense that fun, creativity and collaboration would be at the heart of the experience infected all of the teasers, and gave the MOOC a certain bit of momentum very early on. The first Make Cycle established that ethos in purposeful style as myriads of participants took the concept of "make an introduction" into all sorts of unexpected directions.
While it might be true that the playful nature of the MOOC would have been established in the first few Make Cycles, we believe the teaser campaign set the stage and raised the bar in a way that gave participants explicit and implicit permission to make their own fun, too, and to explore the Connected Learning principles and the Make Cycles on their own terms.
We also benefited greatly from the National Writing Project's leadership within the Summer of Making and Learning, which was the theme of the newly-created Innovator Educator network. Word about the Making Learning Connected MOOC filtered through the Innovator Educator partners, and offered lines of connection from such previous projects such as the Mozilla Foundation's Teach the Web MOOC, and the Learning Creative Learning program and the Connected Learning TV network.
Even so, we had our moments of anxiety when we "opened" the doors to the MOOC and crossed our fingers that folks would come see for themselves the possibilities. To our joy and relief, come they did, and in droves, and within the first few days, the range of projects being created and reflected upon validated the promise the teasers.
We were making something special … together. We still are.
Peace (upon reflection),
Kevin
Why Open Licensing?
Openness was very important to our MOOC. To us, that was part of being a Massive Open Online Collaboration.
We wanted to be open in many respects:
Open to anyone to enroll
Content open and viewable to anyone on the web
Open in terms of connected and collaborative processes
Open licensed so that anyone can reuse, remix, and redistribute the content
To us, a true MOOC is open in all of these ways.
We decided on a CC BY license for our MOOC because that is the most open of the Creative Commons licenses, and the course authors were all wiilling to share in this way.
We posted our license on the CLMOOC site using the code provided by the Creative Commons license chooser page so that our open content would be easily findable by search engines.
Unfortunately, not all MOOCs are really so open. We think that openness — in all the ways that term can be construed — contributed to the success of CLMOOC.
Design Process and The Ethos
see http://digitalis.nwp.org/site-blog/clmooc-how-we-began-sort/5782
Community Building
As a massive open online collaboration and an experience deeply rooted in Connected Learning principles, community was everything to CLMOOC.
We spent a lot of time thinking about how to foster community, and this is one of the things that made CLMOOC different from other MOOCs. During and after the MOOC, we heard over and over again from people how much the community mattered to them and made them successful in their learning.
There are many aspects to community in a MOOC — what goals you have, which technical tools can foster community, and how the facilitators as well as the participants can build a sense of community. We'll explore each of these in this part of the resource.
Newsletter and Blog Posts
[to come]
Hangouts/Make With Me
Being in the Hangout was an effortless way to connect.  It made the MOOC feel like a place where real people with real bodies and real voices could meet and connect.  They made me feel welcomed and supported– and that's a critical part of collaborative inquiry and social learning.

–Melissa Techman, School Librarian and CLMOOC Participant
One of the most exciting features of the Making Connected Learning Connected (#clmooc) experience has been the regular Google Hangouts On Air we've hosted during each Make Cycle.  As synchronous events broadcast live and archived on the NWP Make With Me blog page, these sessions provided an opportunity to share what we were working on during each week's Make Cycle, invited participants into the larger conversation, and helped us dig deeper into the Connected Learning Principles that underpinned each week's explosion of making and sharing.
A week or two before the Make Cycle began, lead facilitators would coordinate with the #clmooc team to choose an hour that would work across time zones and publicize the Hangout on Air in the weekly newsletter, on the G+ Community, and with the #clmooc hashtag on Twitter.  Depending on the theme of the conversation, facilitators would invite particular participants to join the hangout in advance and post the hangout link in the G+ Community for those who wanted to pop in last minute.
Unlike a Hangout generated from your G+ profile, hangouts you intend to broadcast and archive are generated from the Google Hangout on Air page.  After clicking the blue button, you are taken to a screen that asks you you to name your hangout, invite participants, and reminds you that your hangout will be streamed through both your YouTube and your G+ Account.  This means that anyone who has you in a G+ circle and anyone who subscribes to your YouTube channel can watch your hangout in real time.  To reach a wider audience, however, you can click on the embed link in the center screen, copy the embed code, and paste it in a public website as we did at the NWP Make with Me Blog page.  Once your hangout is done processing and you and your guests are ready to go live, you can click on the Start Broadcast Button.  For more on the technical aspects of hosting an On Air Hangout and using other social media tools, check out Joe Dillion's fantastic guide.
During the broadcasts, viewers could watch live, converse in the chatroll–also available on the Make With Me page, and join the hangout to video chat with the group on air.  Just like regular hangouts, Hangouts On Air are limited to ten guests.  We decided ahead of time that if we had a good number of participants who wanted to join, one of the supporting facilitators would drop out to make space.  Often folks would join or drop out midstream, and facilitators pretty quickly learned the etiquette of pausing conversations to introduce new participants and bringing them up to speed if they weren't already following along.
As you can imagine, Hangouts on Air can be frenetic.  With the multiple channels and modes of conversation that are happening simultaneously in the chatroll, backchannel conversations in Hangout chat, and the main frontchannel conversation being broadcast, we found it helpful to have facilitators take on different roles.  Typically, the lead facilitator would initiate the Hangout on Air and send the embed code to an NWP staff member who would plug that into the Make with Me Blog Page.  Lead facilitators would also host or invite other participants to host as we did in Week Five to start handing off responsibility and leadership opportunities to participants.   A supporting facilitator would monitor the chatroll and serve as a liaison, bringing questions and ideas from the chat to the Hangout.   We also tried to play with the insider/outsider perspective, a fishbowling of sorts, and had people in the chat who were deep into the week's makes and Connected Learning principles along with an outsider who could prompt us to articulate and surface many of the threads we were picking up on from the Twitter chats and the Google + community.
In many ways, the On Air Hangouts, while procedurally formalized, provided space for informally hanging out, messing around, and geeking out, a practice that Mimi Ito describes as essential for building peer networks that drive learning.   And while hanging out "on air" was intimidating at first, over the course of the summer, I learned to be more comfortable showing up without a script, sharing ideas that are only half-baked, and using digital tools to facilitate conversation instead of delivering content.  This is the ethos of #clmooc, and Hangout on Air is one of the tools that helped us construct it.
Twitter Chat
[to come – Karen?]
Make Bank
In the midst of #clmooc and in the planning stages of some other massive (perhaps) open online collaborations, I'm thinking again about the dynamics of self-direction in a peer learning context.
At the P2PU School of Ed, we've played with this quite a bit with varying degrees of success. We've tried "hack the syllabus," design your own activities, and other things. Nothing
Then I found #d106. The assignment bank there was a whole new brilliant paradigm.
And so, not needing to reinvent the wheel, we at #clmooc modeled a Make Bank after this (with much thanks to Alan Levine, Martha Burtis, and Jim Groom and the ds106 community). #clmooc is about making, and we wanted the community to be able to "make their own makes" with the Make Bank.
Technically, this was fairly straightforward. Using WordPress as our content management system, we set up Gravity Forms as the front end to capture user-generated data. The entries from this then generate WP posts (they would also generate WP pages), which are then held for moderation. When they are approved by a moderator, they automatically post to a page using a designated category and then using list category posts to publish them all to a given page.
In another similar implementation, we put a search box and tag cloud right on the main page using the widgets on pages plug-in. Another thing we did that really worked well is to include a Gravity Forms field to allow file upload (in this case images). Credit Paul Oh for that idea. It really made the whole thing more interesting and useful.
Technically, I love this approach of using a web-based way to populate a database. I've been looking for something like this for a while and have already put it into use on another project. I think I'll use this for all kinds of things in the future.
From a learning standpoint, I love his model of peer content/course/collaboration development. It seems to be working better than other things I've tried. Three weeks into this MOOC and we have had about 45 "makes" submitted.
One of the lovely developments is that some makes have been collaboratively developed on (via Twitter chats or hangouts).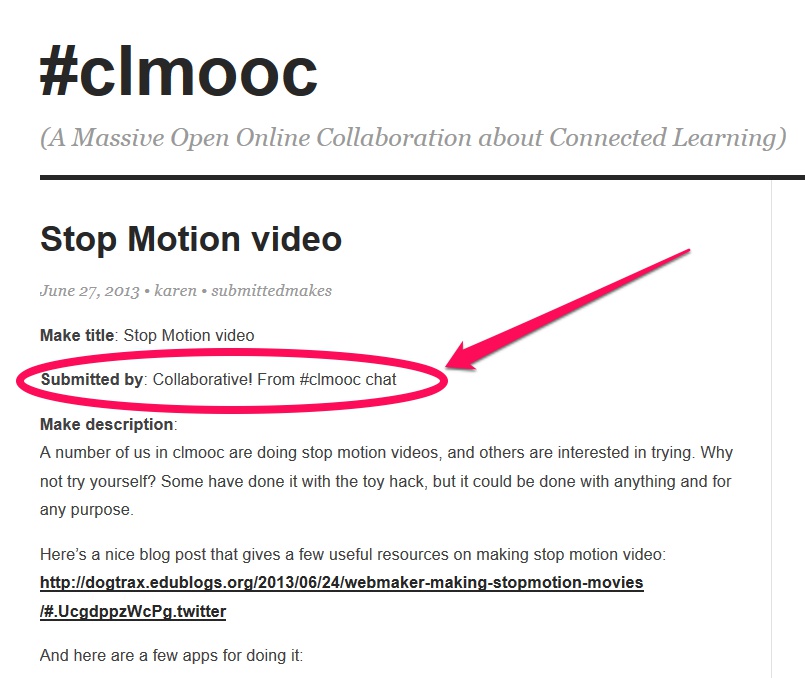 I suspect that some of the reasons that this Make Bank has been successful have been:
It's core to the collaboration/course content. We're all about makes and options for makes.
It's simple. (We really worked to simplify the form. Thanks Terry and Joe.)
It seems somehow granular enough and separate enough that it's not threatening (possibly unlike hacking a syllabus or an actual course page.)
I'd love to hear others thoughts about this. We're always iterating!
So, my advice?
Encourage participant creation especially in terms of their "course"/learning experience.
Experiment. Try new things and see what works.
Borrow from others' successes.
Archiving and Curation
[to come??]
Technical Aspects
The technical aspects of how to develop and host a MOOC are often one of the first challenges developers tackle. While the technical decisions we made regarding CLMOOC were important, they grew out of our planning process and our overall ethos.
This section of the resource discussed the platform decisions MOOCs must make, as well as some details on different tools we used and how we used them.
Help Guides
[to come – Joe?]
The Platform Decision
In doing some thinking about planning and setting up connectivist MOOCs, the first question that often comes up is "What platform should we use?"
To answer that question, like many other design questions, one should first think about the goals of the task at hand, in this case, the goals of your MOOC.
For #clmooc and other connectivist MOOCs, our goals were centered around connected learning and creating a learner-centered, participatory environment. We also had a stated goal of being open in the broadest sense possible. Clearly articulating those values was critical to choosing a platform.
For #clmooc, we chose to go with multiple platforms. Our main two platforms were WordPress and G+. We also used and supported Twitter and a blog hub. Finally, we built in flexibility to use different platforms as we went and to let the community determine which platforms would be primary.
Overwhelmingly, our participants selected G+ as their platform of choice for this MOOC.
Here is a short summary of how we used each platform and the pros and cons of each.
Platform
Use in #clmooc
Pros
Cons
WordPress
Central participant registration

Site for facilitator blog posts and announcements

Site for about page, FAQs, help guides, calendar, links to other platforms

Way we sent email newsletters (Wysija)
One central location

Easy for multiple developer/facilitators to manage

Highly customizable

Great support community

Control of license (open CC BY in our case)
Not very interactive

Email open rate was low (as is typical)
G+
Main location for participant posting and group interaction

High use

Very interactive and social

Very easy to use

Nearly everyone has a Google acct. so barriers to participate were low

Open in the sense of publicly viewable
Proprietary platform; not open licensed

Subject to Google's whims

Hard to find old posts

Not easy to track analytics

No tie to other platforms
Blog hub
Place where we aggregated participants' blogs if they submitted them

Allows much longer format reflections

Participant-driven and owned

Not everyone has a blog; not easy to set up

Requires bigger time commitment by participants

Lower use
Twitter
Weekly Twitter chats

Sporadic #clmooc discussions

Immediate

Very interactive and social

Open in the sense of publicly viewable
Small % of people are on Twitter

Proprietary platform; not open licensed

Subject to Twitter's whims (less of a concern because it's well established)
The tools #clmooc used were obviously all publicly available tools. Other platform choices that some might entertain (and why we didn't) include:
Closed proprietary platforms like Blackboard, Coursesites, etc. – We felt that an open, participatory platform was integral to our mission and goals.
Custom-developed platforms – We didn't have the budget or support resources for this.
Newer MOOC specific platforms like Google's Coursebuilder, OpenMOOC, or edX – We didn't have the time, staff, or expertise to learn and troubleshoot a new platform.
The bottom line is that what platform you choose really matters. In hindsight, I think the choice to go with multiple platforms was the right one for #clmooc, and we were happy with the platforms we chose. They weren't without problems (such as the virtual impossibility of gathering and correlating analytics across platforms), but they served our goals. And most importantly, they served our participants.