Feb 1 is Digital Learning Day
Reposted from Blogwalker
Digital Learning Day – what a great way for schools to head into the New Year! If your district, like mine, is experiencing the weight of PI (Program Improvement) pressures, requirements and walk-throughs sucking the creative juices right out classrooms, Digital Learning Day will provide a much-needed celebration of innovative teachers and instructional strategies.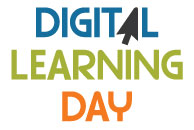 Started by the Alliance for Learning, and in partnership with the National Writing Project, Digital Learning Day will showcase powerful work going on in the many districts and classrooms where educators are making thoughtful use of the potential of digital tools to provide students with the skills they need to succeed in college, career, and life. The ultimate goal is for the event to ignite a "digital learning movement that truly provides a quality education for every child."
Bob Wise, president of the Alliance for Excellent Education (and former governor of West Virginia) speaks clearly and passionately in this video message on the commitment for Digital Learning Day to be more than a stand-alone event.
"Simply slapping a netbook on top of a textbook, however, will not necessarily lead to significant outcomes. Effective digital media combined with powerful teaching, rich content, and engaged students has the potential to take learning in the United States to a much higher level and provide all students with experiences that allow them to graduate prepared for college and a career."

http://www.youtube.com/watch?v=d_XBGn5wWtc&feature=player_embedded
Across the nation, the Alliance for Learning and the National Writing Project (NWP) will be coordinating statewide and local Digital Learning Day events. In California, under the direction of the California Writing Project (CWP), you have a number of opportunities showcase good things happening at your schools and districts:
February 1 Sacramento/Capitol Area Showcase – Writing Our Future: A Celebration of Students' Digital Learning and Writing (4:00-6:00 pm, location TBA). CWP Director Jayne Marlink describes the event as "imagine a combination of a science fair and a gallery walk…Teams will share their approach to improving learning – the learning goals, the technological resources used, and the student work that resulted." I am really looking forward to involving some of the amazing teachers in my district's EETT grants and the ANU Teach 21 grant!
February 1 (and maybe during the following week) Road Tour – A tour of schools and classrooms across the state that will open their doors to invited guests and community members, so they can see great digital teaching and learning in action. There will also be an Online Road Tour of schools and classrooms that will be visited via the CWP website. Amazing middle school teacher Natalie Bernasconi, for instance, will invite visitors in for an exploration of digital writing as a powerful way for her ELL students to find their voices and share their stories.
Try One New Thing – Digital Learning Day is not limited to February 1! Across California and the nation, Writing Project sites will be sponsoring workshops and conferences for teachers and administrators. Educators will be encouraged to "sample an online lesson, use mobile devices in class, start a wiki, use digital storytelling, start a project-based learning unit, but above all, challenge your teaching, learning, and pedagogy and see what digital technology can do for you and the students you serve!"
A great starting point for DLD resources are the toolkits, which are "are designed to help you think about how technology may strengthen your instructional strategies." More resources and tips to come!
Digital Learning Day is a call for action "to leverage innovative uses of technology in our nation's schools to ensure every student experiences personalized learning with great teaching." It's also a great opportunity – in this time of painful budget cuts – to showcase good things happening in public school classrooms. I hope you will join me in publicizing this event in your districts and regions!